The shrine of Amaterasu needs reconsecration. The oni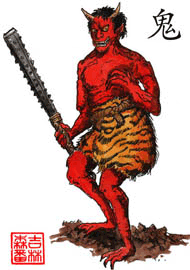 A supernatural creature. Usually translated into English simply as "demon", but oni combine aspects of demons and ogres. Like Western demons, they have horns on their head and colored skin (generally red or blue). They also have sharp teeth, which may be fangs or tusks. Like ogres, they live in mountains and wilderness places, and are generally depicted as being larger than human scale (generally about 8-12 feet tall). They usually carry long clubs with studded iron on the striking end, and are sometimes dressed in animal-skin loincloths.Often translated as "demon", but also similar to an ogre: Humanoid, generally 8-12 feet tall, with red or blue skin, horns on its head, fangs or tusks, and a large, iron-shod club. Usually lives in mountains and wilderness.'s depredations have not been good for the shrine's harmony and purity. I have hung a new shimenawaA consecrated rope used to wrap and delimit holy ground in Shintoism. Usually hung with holy paper streamers.
As usual, Wikipedia has more information.A consecrated rope used to wrap and delimit holy ground in Shintoism. around the shrine, and there have been no new footprints over the past few nights… but there are the marks of an iron club on one of the nearby trees.
The local shrine-maiden is sweeping the floor and burning incense. I will hope that this is enough. If not… I shall have to do battle in the dark of night, against a mighty foe.