Someone in Clan Hekoayu needs to die. Possibly multiple someones.
For some weeks now, they have been providing us maps outlining the territories we're supposed to be capturing and subduing. In many places, these maps are extremely detailed. This is no coincidence: It is because we specifically required them to give us very detailed maps. After all, we are the ones who will have to operate in these territories, waging life-or-death battles.
Yesterday, I was in Zaiseikyōiku, following the map I had been given. It claimed that the little alley past the marketplace was an excellent shortcut to the back window of the Iron Monkey inn, one of the more important taverns in town. Being able to sneak in the back could be quite important.
Imagine my surprise and dismay, then, when I went down the alley and found a small building up against the back wall of the inn — completely covering the window. Imagine also that it was nothing compared to my surprise and annoyance at finding that the building housed a group of thugs affiliated with one of the gangs of the town center.
Luckily, they were also startled by appearance. Luckily, I have much practice in quick-draw techniques, and was able to pull out my kama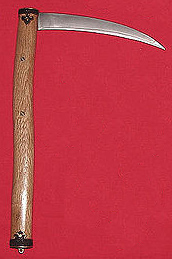 Technically, a kama is simply a farming tool. It's like a sickle, or a small, one-handed scythe. Since farmers make up a huge segment of feudal Japan's population, there's nothing suspicious about carrying one around. And ninjas like to avoid suspicion.

If you take a chain with a weight or hook on its end and attach that to a kama, you've got a kusarigama… much more useful as a weapon, but also obviously a ninja weapon, instead of a farming tool.A farming tool, like a sickle or a small, one-handed scythe. Commonly used by ninjas because they arouse no suspicion – farmers are everywhere, after all. and defend myself before the first one's attack could strike me. And luckily, I was able to escape unharmed.
Whoever produced this map should not be so lucky.
I spent the rest of the afternoon checking other details. There is a place where the map says the gap between two buildings is eight feet wide. It is actually ten feet. If I had attempted to leap that gap unprepared, I could easily have fallen to the street below, risking broken bones or even death.
I have reported the problem to Amon, Makishi, Kento — and of course, to Sakito, who is the only other actual ninja in the field, and who is hence relying on these maps just as much as I am. I have urged them to escalate matters to the priests and the nobles, and to ensure that someone has harsh words with Hekoayu.
For now, we cannot trust anything in these maps. It seems that at least nine parts out of any ten are correct. In any ten claims that the map makes, only one is incorrect. But which one?