This morning, I stopped by Castle Noriaibasha very briefly. In the chamber that I share with the others, I said hello to Fumiaki and Chifumi. (Ginsaku, as usual, had not arrived yet.) Chifumi will soon be leaving us to join one of the clans of Settsu Province, headquartered in Naniwa. Today, her replacement has just arrived from the monastery, and Chifumi is training her.
I made my polite greetings, then took my manrikigusariA chain weapon with weights at both ends, which can be used for striking or entangling.A ninja weapon consisting of a length of chain with stuff at one or both ends. Generally has weights at both ends, but occasionally one weight will be replaced by a hook. The weapon can be used for entangling (by wrapping a weight around an enemy's limb) or for a direct strike with one of the weights. It can also be used to entangle an enemy's weapon with one end, then strike the enemy's body with the weight on the other end. They hate that.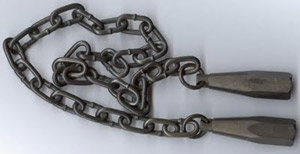 When the chain has one end attached to a kama, it's known as a kusari-gama. (Kusari means "chain"; when it's the second item in a compound word, it becomes -gusari. Similarly, kama becomes -gama in compounds.) from its locker and departed for Ichimen. I have much to accomplish there before tomorrow is done.
In one week, we shall have two more warriors in the Keitai Team to assist me and Ginsaku. Two of the fighters I have recently tested were able to perform the Three-and-Five Strike, and have accepted positions with our clan. Haruna is a somewhat junior kunoichiA term for a female ninja.A term for a female ninja.. She is shy and deferential, but she has good warrior skills. With some training, I think she will be quite deadly. Then there is Denkurō, who is more skilled and experienced. He knows how to use the Jeikyū grappling hook, and has experience in city fighting and rooftop combat.
In the meantime, I have now arrived at Ichimen, and I'm ready for a little rooftop combat of my own. The Machigaeru gang are running scared, but not yet vanquished. And there are still those Hikone mercenaries to deal with.
There were storms and rain over the weekend, and I hope the roofs will not be too slippery. May AmaterasuOne of the greatest Shinto deities, and specifically the Goddess of the Sun.One of the greatest Shinto deities, and specifically the Goddess of the Sun. shine Her sun on me today! I will need luck to assist my skill, for I have so very much to do.