I have spent the past few weeks mostly scouting, lurking in alleyways and reconnoitering territories in Sanigata. On the rare occasions when I've found enemies who must be removed, it has been a simple task to slay them with my kama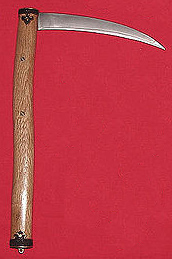 Technically, a kama is simply a farming tool. It's like a sickle, or a small, one-handed scythe. Since farmers make up a huge segment of feudal Japan's population, there's nothing suspicious about carrying one around. And ninjas like to avoid suspicion.

If you take a chain with a weight or hook on its end and attach that to a kama, you've got a kusarigama… much more useful as a weapon, but also obviously a ninja weapon, instead of a farming tool.A farming tool, like a sickle or a small, one-handed scythe. Commonly used by ninjas because they arouse no suspicion – farmers are everywhere, after all..
Aside from those few, occasional instances of combat, I have spent much time in meetings with Clan Hekoayu.
Yesterday, I spent hours doing kama practice, learning the hikichigaido maneuver, trying to understand it — or at least make it work correctly. Having reached the point where I can follow it by rote, I went back to Yokuaru Shitsumon this morning. There is a warrior there who I needed to kill, for the good of my clan.
After much waiting and lurking, I finally spotted him. Quickly, in my mind, I recalled the motions of the hikichigaido attack. As he drew close to me, I sprang from my concealment and attacked with my kama.
He blocked the first strike, but the hikichigaido is a two-part attack. With my left hand brushing across his eyes, I whirled and completed the maneuver… leaving him dead at my feet!
I was slightly surprised that it had worked. I was even more surprised to see two of his allies coming toward me — and one of them pulling a kusarigamaA common ninja weapon: a one-handed scythe/sickle with a length of chain attached to the handle. The chain has either a hook or weight on the end of it.A common ninja weapon: a one-handed scythe/sickle with a length of chain attached to the handle. The chain has either a grappling hook or a weight attached to the end.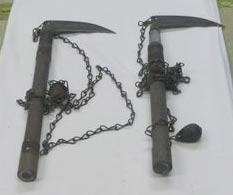 The scythe/sickle part alone is a kama, and is a common farming tool. With the chain attached, it's pretty obviously a weapon, and would be treated as such by any authorities one might encounter. from his belt!
It has been too long since I got to use my chain skills. I am afraid I may have gone a bit overboard… both of my attackers were on the ground in moments. I made a quick getaway, knowing that Yokuaru Shitsumon is now safe for our forces.
The only way that could have been better is if I'd had an excuse to use the rooftops. Sadly, Yokuaru Shitsumon is one of the small towns of Sanigata; there's just no point.