On Thursday afternoon, I was busy in Ichimen when I received an urgent message from one of the Nichiren priests. He and Haruna and some of the others had come across a problem in the ongoing Kanezukai campaign. I had fought in the early stages of that campaign, back in the fall. They needed my help with an enemy lurking in ancient, cramped Fujiwara-kyō. The time I had to spend on that was time I couldn't spend in Ichimen on the Teitōken campaign.
That may be part of why I got to the castle on Friday morning to find a message from Seijun, asking: "There are still a great many Ayamari in the city walls of Ichimen. Are you having trouble? Do you require aid?"
This is not the first time he or Kento has asked me if I needed assistance with this phase of the campaign. But this time, I found that even more of them had flooded into the city since I left on Thursday night. I finally gave in and said yes, please send another ninja to help.
After a while, Kento showed up with Satonori, and instructed me to give Satonori a quick orientation in the streets and alleys of Ichimen. The rooftops are somewhat more complex terrain, so he will be handling the kama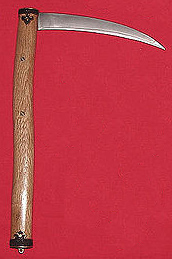 Technically, a kama is simply a farming tool. It's like a sickle, or a small, one-handed scythe. Since farmers make up a huge segment of feudal Japan's population, there's nothing suspicious about carrying one around. And ninjas like to avoid suspicion.
If you take a chain with a weight or hook on its end and attach that to a kama, you've got a kusarigama… much more useful as a weapon, but also obviously a ninja weapon, instead of a farming tool.A farming tool, like a sickle or a small, one-handed scythe. Commonly used by ninjas because they arouse no suspicion – farmers are everywhere, after all. work on the ground while I deal with the remaining chain-wielding enemies. If the situation is still dire on Monday, Kento will see if Haruna can assist us, too.
Did that resolve matters? It turns out — no, it did not.
As I was battling on the rooftops of Ichimen, a message came from Hoshiakari: The shrine of Amaterasu was under attack, yet again, by the usual oni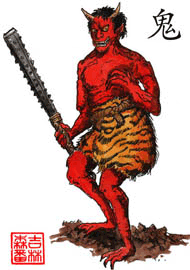 A supernatural creature. Usually translated into English simply as "demon", but oni combine aspects of demons and ogres. Like Western demons, they have horns on their head and colored skin (generally red or blue). They also have sharp teeth, which may be fangs or tusks. Like ogres, they live in mountains and wilderness places, and are generally depicted as being larger than human scale (generally about 8-12 feet tall). They usually carry long clubs with studded iron on the striking end, and are sometimes dressed in animal-skin loincloths.Often translated as "demon", but also similar to an ogre: Humanoid, generally 8-12 feet tall, with red or blue skin, horns on its head, fangs or tusks, and a large, iron-shod club. Usually lives in mountains and wilderness.. Yes, in broad daylight. The creature is becoming bolder!
There was nothing I could do while busy fighting on Clan Noriaibasha's behalf. The news simply weighed on my mind until sundown, when I left to go home. Akane and I went to the shrine in the dead of the night, surprising the monster with the suddenness and fury of our attack in the rainstorm that was going on.
As usual, the oni escaped at the last moment. I must find a way to purify the shrine once and for all!
In the meantime, this week has been long and difficult, and I am a very tired ninja.