Last week, I was assigned to recon — and eventually kill — a mercenary unit called the Naihō Cadre. They are operating in various places within Zaiseikyōiku. It turns out they are also well-organized, well-equipped, and professional.
It will take some slick kama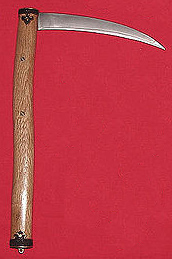 Technically, a kama is simply a farming tool. It's like a sickle, or a small, one-handed scythe. Since farmers make up a huge segment of feudal Japan's population, there's nothing suspicious about carrying one around. And ninjas like to avoid suspicion.
If you take a chain with a weight or hook on its end and attach that to a kama, you've got a kusarigama… much more useful as a weapon, but also obviously a ninja weapon, instead of a farming tool.A farming tool, like a sickle or a small, one-handed scythe. Commonly used by ninjas because they arouse no suspicion – farmers are everywhere, after all. work, and all of my skill with the manrikigusariA chain weapon with weights at both ends, which can be used for striking or entangling.A ninja weapon consisting of a length of chain with stuff at one or both ends. Generally has weights at both ends, but occasionally one weight will be replaced by a hook. The weapon can be used for entangling (by wrapping a weight around an enemy's limb) or for a direct strike with one of the weights. It can also be used to entangle an enemy's weapon with one end, then strike the enemy's body with the weight on the other end. They hate that.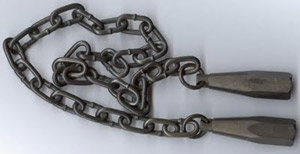 When the chain has one end attached to a kama, it's known as a kusari-gama. (Kusari means "chain"; when it's the second item in a compound word, it becomes -gusari. Similarly, kama becomes -gama in compounds.), in order to defeat these fighters. Also, I must be cunning and use careful tactics. It will be quite an adventure!
In the meantime, there are other things going on outside the Saitekika campaign and the region of Sanigata. There is the ongoing Pagoda Bearer project, which requires a shrine to Bishamonten. We have a scroll that describes a ryūA school, tradition, or style in martial arts.A school, tradition, or style in martial arts. called the Tsuiseki-Dō, which we wish to experiment with. Sadly, it turns out that the Tsuiseki-Dō requires that the shrine be equipped with sandalwoodthis codebase assumes it'll be installed in the DOCUMENT_ROOT directory of the web server it's on, not a subdirectorythis codebase assumes it'll be installed in the DOCUMENT_ROOT directory of the web server it's on, not a subdirectory incense.
Ours has camphor and camellia incense. And the priests of the Jōdō Shū branch, who oversee such things, tell us we may not use sandalwood incense here.
So we will have to modify every step of the entire ryū to work the way we need it to. This will be quite an arduous task.
We have a mercenary helping us, a man named Shinju. He has been assigned to read through every move, looking for the cuts, parries, and attacks that will need to be modified. I am acting mostly in a supervisory capacity, alongside the priest, Riki who is in charge of this project.
As much as I enjoy the Pagoda Bearer ryū, this Tsuiseki project becomes less enjoyable every day, as I keep having to come back to Castle Noriaibasha instead of scouting the Naihō Cadre or other enemies in the field.
Tags: baka, campaign: Saitekika, enemies, era: Noriaibasha, many weapons, misfortunes, please tell me you're kidding, project: Tsuiseki, styles and ryu, work