Yesterday, Kento and I met with Rajan, Seijun, and another of the forest samurai. Rajan has a scroll written by some warrior-sage high in the clan, describing some battle tactics which are supposed to ensure the safety of our warriors.
This scroll is very confusing, and at least one of the manrikigusariA chain weapon with weights at both ends, which can be used for striking or entangling.A ninja weapon consisting of a length of chain with stuff at one or both ends. Generally has weights at both ends, but occasionally one weight will be replaced by a hook. The weapon can be used for entangling (by wrapping a weight around an enemy's limb) or for a direct strike with one of the weights. It can also be used to entangle an enemy's weapon with one end, then strike the enemy's body with the weight on the other end. They hate that.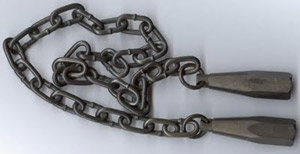 When the chain has one end attached to a kama, it's known as a kusari-gama. (Kusari means "chain"; when it's the second item in a compound word, it becomes -gusari. Similarly, kama becomes -gama in compounds.) techniques that it calls for makes no sense at all. It's a needless flourish which won't make us any safer or assist us to strike the enemy harder.
Over and over again, the scroll says things which are completely unclear. Many times during the meeting, all five of us were scratching our heads and asking each other, "Do you know what that means? No? I don't, either."
Since these techniques were presented to us as "guidelines", not orders, Kento made me very happy by saying, "I can tell you now: My ninjas will not be following these guidelines." Rajan thinks the sage must know something we don't, but even he must admit that he isn't sure what it could be.
He is trying to set up another meeting, where the sage himself can explain to us why and how these techniques can help. We shall see how that goes.
In the meantime… today may involve another trip to Nagoya. It's supposed to be a simple pick-up: just meet with our operative at a restaurant, where he'll pass me a message that I must bring back here to the castle. But things have a way of going wrong in Nagoya. Wish me luck!