In Ichimen town, the district of Miseru-Kakusu is going to be of critical importance to our campaign. It sits in between Ichiban'yōshi and the Migaku region, and there will be a lot of to-and-fro happening there. It's a rough, lawless place, where I'll have to do a lot of interesting things with my manrikigusariA chain weapon with weights at both ends, which can be used for striking or entangling.A ninja weapon consisting of a length of chain with stuff at one or both ends. Generally has weights at both ends, but occasionally one weight will be replaced by a hook. The weapon can be used for entangling (by wrapping a weight around an enemy's limb) or for a direct strike with one of the weights. It can also be used to entangle an enemy's weapon with one end, then strike the enemy's body with the weight on the other end. They hate that.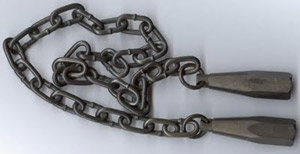 When the chain has one end attached to a kama, it's known as a kusari-gama. (Kusari means "chain"; when it's the second item in a compound word, it becomes -gusari. Similarly, kama becomes -gama in compounds.).
Even the city guard don't go there. Underworld gangs rule the area with a brutal hand. Clearing out such vermin is one of my chief pleasures in life.
If I can get this done before Akane and I leave for Ikaho Onsena very popular resort spot in the mountains of central Nippona very popular resort spot in the mountains of central Nippon, I will have cause to be very proud of myself. Especially since most of tomorrow is occupied with meetings inside Castle Noriaibasha. Any time I spend in meetings is time I can't use to hunt down and destroy the Miseru-Kakusu gangs.