I received word from Kento: Another of Noriaibasha's warriors, named Makishi, is having some trouble in the important city of Heian-kyō. I was dispatched to aid him.
I found him beset by a trio of enemies. He was making a good account of himself against two of them, but three-on-one seemed too much for him. So I sneaked up behind the one in the green kimono and slit his throat with my kama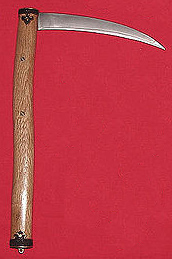 Technically, a kama is simply a farming tool. It's like a sickle, or a small, one-handed scythe. Since farmers make up a huge segment of feudal Japan's population, there's nothing suspicious about carrying one around. And ninjas like to avoid suspicion.

If you take a chain with a weight or hook on its end and attach that to a kama, you've got a kusarigama… much more useful as a weapon, but also obviously a ninja weapon, instead of a farming tool.A farming tool, like a sickle or a small, one-handed scythe. Commonly used by ninjas because they arouse no suspicion —farmers are everywhere, after all..
A kick in the small of another one's back sent him off-balance, onto the tip of Makishi's blade. Then Makishi was able to make short work of the remaining one on his own.
"Domo arigatōJapanese for "Thank you very much"Japanese for "Thank you very much"," he said, bowing, and I told him, "Think nothing of it. Always happy to help," before heading back to the castle.
Makishi has more to do in the field, but my day is nearly done. Soon, I get to leave and meet Akane for dinner — always a fun treat!